Location
Ca' Due Leoni is located in the Cannaregio District, the largest of the six districts of Venice. The Cannaregio District stretches from Santa Lucia Railway Station to San Marco District, bordering on Rialto Bridge, and Castello District, bordering on Campo San Giovanni e Paolo, where Venice Hospital is located. The main waterway of the district is the Cannaregio Canal, which flows the Grand Canal to the Lagoon. It is the second widest canal in Venice and the only one, with the Grand Canal, sailed by water buses, the urban public transportation service. The canal is crossed by two big bridges: Guglie Bridge and Tre Archi Bridge.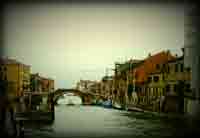 Hotel Ca' Due Leoni is situated in "Campiello della Pazienza", a small square which opens along the bank of the Cannaregio Canal. Along the Cannaregio Canal, close to the hotel, there are waterbus stops to San Marco, the Biennale Palace and Gardens, the Islands of Murano, Burano and Torcello and to the Lido. In front of the nearby Railway Station you can take the waterbuses that cruise up and down the Grand Canal.
There are various tourist attractions in the immediate proximity of the hotel: the ancient Jewish Ghetto, with its beautiful architectural complex of five synagogues; the Vendramini Calaregi Palace, currently home of the Venice Casino, in the past the former residence of important aristocratic families who gave their hospitality to many prominent people through history among whom Richard Wagner, who died here; The Labia Palace, with its admirable frescoes by Tiepolo; the Scalzi Church, designed by Longhena and frescoes by Tiepolo; the 14th Century Sant'Alvise church, sumptuously frescoed by Ricchi and Tiepolo; the church of Madonna dell'Orto, with its famous paintings by Tintoretto, and finally the churches of San Giobbe and San Geremia, which houses the remains of Santa Lucia.